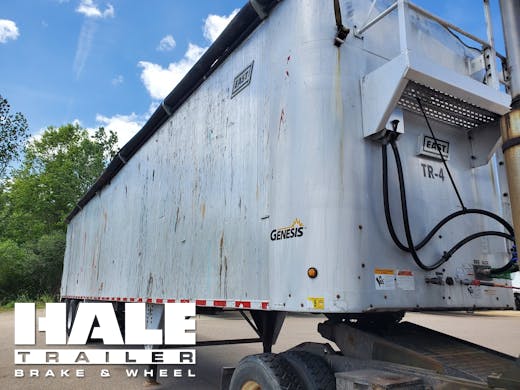 Model: Genesis Aluminum Refuse Moving Floor
Stock #: A009818 Year: 2015
Suspension: TRI AXLE SUSPENSION
Model: Genesis Aluminum Refuse Moving Floor
Stock #: A010938 Year: 2017
Suspension: TRI AXLE SUSPENSION
Model: Open Top Moving Floor
Stock #: A012779 Year: 2018
Suspension: SPRING TRI AXLE
Used Walking Floor Trailer Manufacturers
Hale Trailer is proud to carry a full inventory of used walking floor trailers for sale from some of the top manufacturers in the industry, including Dorsey, East, Peerless, Mac, Manac, and Eby. Our selection of fully maintained trailers is checked for a valid FHWA inspection so they are ready to go as soon as you need them.
Used Walking Floor Model Types
Hale Trailer carries several different used walking floor model types, including:
Open Top Walking Floor
Genesis Aluminum Refuse Walking Floor
Aluminum Refuse Walking Floor
Closed Top Walking Floor
Used Walking Floor Trailer Sizes
We carry used walking floor trailers for sale ranging from 40' to 53' in length, so whatever your hauling needs may be, Hale Trailer has the right trailer for the job. Trailer dimension restrictions may vary based on state, so be sure to speak with one of our trailer experts who will be happy to help find the perfect used walking floor trailer for your fleet.
Benefits of Walking Floors Trailers
Finding the right trailer for your fleet is an important job. There are many factors to consider from local and state regulations, to the type of cargo being hauled. Purchasing a used walking floor trailer gives your fleet a reliable and versatile option when you need to haul the big stuff. A few benefits are:
Self-unloading
Unload without raising the entire trailer
Unload in nearly any location
Ideal for agriculture, forestry, and waste industries
Fast unloading
Contact the Hale Trailer Experts Today
Whether you need help choosing a used walking floor trailer, require repairs on a trailer, or looking for replacement parts, our knowledgeable Trailers NOW technicians are here to assist. We have the experience to help fleet managers and owner/operators stay informed with the resources you need to help you select the best used walking floor trailer. Contact any of our trailer rental locations to speak with one of our sales experts today.